Cladfix

A range of fasteners precision engineered on the latest forged point dies and machinery. Forge points are far superior than any other self drll points available. The unique carbide dies give a perfect none drilling point throughout every production run. The drill point is formed to produce the optimum size pilot hole for maximum thread engagement. Tests have proved that forged point to technology produced the fastest, safest and most secure fastening systems available.

For fixing profiled metal cladding into cold rolled steel. This comprehensive range of high quality self drilling fasteners are designed to provide the industry with fixings that give very rapid and accurate installation with precission drill points eliminating 'skip action' to prevent damage to the face of the profile.
Applications

For fixing profile metal, Cladding single skin or insulation to cold rolled rails and purlins 1.2 - 5.3mm thick.

Head Styles

Hexagon head 5/16 across flats certain sizes available with 3/8AF.

Benefits

Super fast drill speed.


Excellent pullout in thin materials.


Extra thick deposit of zinc ensures resistance.
Specifications

Manufactured from carbon steel heat treated and zinc plated to 12 microns.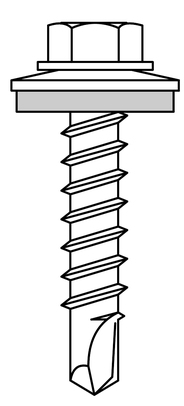 | | | | |
| --- | --- | --- | --- |
| Code | Diameter (mm) | Length (mm) | Fully Threaded |
| ASF17 | 5.5 | 25 | Yes |
| ASF15 | 5.5 | 32 | Yes |
| ASF2 | 5.5 | 38 | Yes |
| ASF12 | 5.5 | 43 | No |
| ASF3 | 5.5 | 50 | Yes |
| ASF21 | 5.5 | 51 | No |
| ASF23 | 5.5 | 57 | Yes |
| ASF38 | 5.5 | 70 | No |
| CFT25 | 5.5 | 82 | No |
| CFT26 | 5.5 | 98 | No |
| CFT27 | 6.3 | 160 | No |
Fasteners shown are available pre-assembled

| | | | |
| --- | --- | --- | --- |
| Code | Dia | EPDM Thickness | Application |
| G12 | 12mm | 2.1 | Isolator |
| G16 | 16mm | 2.1 | Side wall |
| G19 | 19mm | 3.0 | Roof |
| G29 | 29mm | 3.0 | Roof Lights |